Indulge customers this St George's Day, celebrating the patron saint with all manner of culinary delights. Here's some insight into which countries mark St George's Day (Thursday, 23 April), as well as what they dish up for locals.
It goes without saying that we acknowledge St George's Day in England, but Canada, Croatia, Portugal, Cyprus, Spain, Greece, Georgia, Romania and Bosnia are just some of the other countries who do, too.
You may not know that St George was born in Cappadocia in Turkey. So, how did he become the patron saint of England? Britain Magazine has all the facts here, including this one: 'St George was beheaded for resigning his military post and protesting against his pagan leader, the Emperor Diocletian (245-313 AD), who led Rome's persecution of Christians.'
So, what happens around the world on St George's Day – and what do the people who mark the occasion eat? Of course, this differs from country to country and household to household, but some dishes remain popular country-wide for those who celebrate the patron saint.
Bulgaria, Croatia and Slovenia
In the UK, a roast dinner may be tradition on St George's Day. In Bulgaria, though, roasting a whole lamb is the way to go, with people gathering publicly to cook the animal on a spit as part of the traditions.
The occasion 'is seen as a day when evil enchantments can be broken and a blessed day when the saint blesses the crop and morning dew'. As a result, people go walking in the early morning to wash their face in the fresh dew' says ITV.
In Croatia and Slovenia, it's also common to roast a lamb, with the holiday celebrating the return of springtime and considered one of the most important dates on the calendar.
Here's a Croatian roasted lamb speciality, if you'd like to try something different.
Want to cook a more traditional British lamb dinner for your diners? Jamie Oliver has a recipe here.
Catalonia, Spain
In Spain, where St George (or Sant Jordi) is heavily associated, a public holiday not dissimilar from Valentine's Day is held. Roses and books are exchanged by lover and the streets become awash with flower and book sellers. As a result, Catalonia has managed to export the tradition, as UNESCO adopted the date as World Book Day. Why not introduce your own Catalonian-style book fair or flower exchange?
In Catalonia, street food is, of course, the order of the day for an occasion like this. If your venue is hoping to think outside the box this year, why not serve up street food, too, with a nod to the Catalonian St George's Day celebrations?
It makes a change from British-themed pub or restaurant food, yet it can still follow tradition. Miniature fish and chips served alfresco (if it's warm enough) or small Yorkshire puddings, roast beef and gravy might give people another incentive to visit your venue.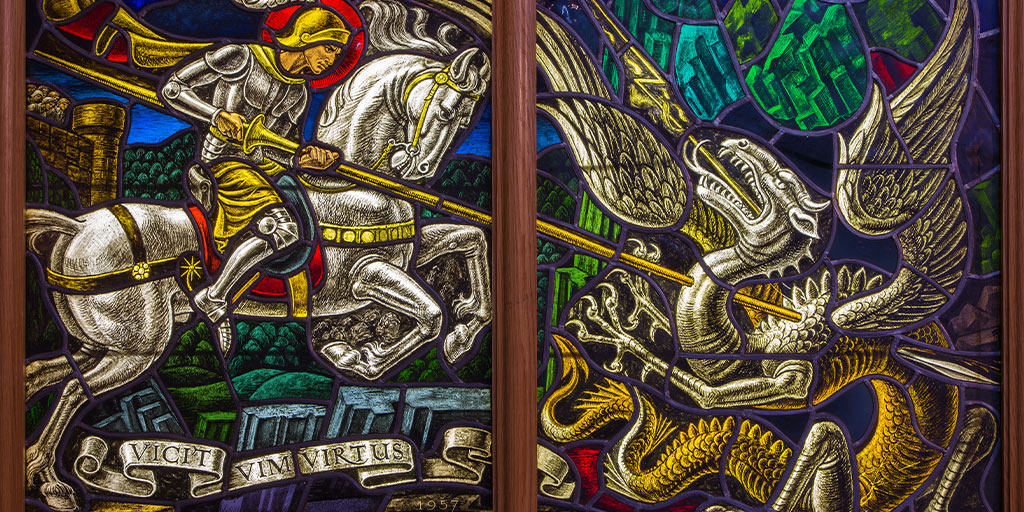 Albania
In Albania on St George's Day, people head out, build a fire and play around it. It's celebrated on 6 May, though, and is known as Shen Gjergji or Shengjergji (Shingjergji). An occasion where people celebrate the blessing of God, in Albania Christian Orthodox Albanians go to church and pray, as well as sing songs about St George.
They might later tuck into traditional Albanian dishes like veal stew, pies, and rich, sugar-laden sweets and desserts.
England
On home soil, St George's Day is, of course, celebrated with all manner of typically English traditions, with morris dancing and Punch and Judy shows being just two. The BBC Good Food site offers all kinds of menu ideas, from age-old classics to retro additions for dessert.
Former Dragons' Den star, Levi Roots even combines the 'best of British with the best of the Caribbean' in this wholesome cottage pie recipe. Vegetarians are also well catered for online, with a veggie St George's Day menu to please everyone.
Looking for some more St George's Day inspiration? You'll find plenty of ideas over here, from themed events to menu ideas.
How will you celebrate St George's Day this year? Whether you break with tradition to try something different, or you roll out the old favourites, we hope the occasion is a huge success.